Post by GuyF on May 26, 2020 11:48:53 GMT -5
Guys, while I'm aware we're all bored and this is certainly the spot for endless banter, trying to determine a single 5-man lineup is next to impossible. I also think we're very likely going to go 10 deep, so pinpointing 5 guys may not even be necessary!
While I don't expect us to play like a hockey team out there with "shifts" of 5 guys shifting in and out, let's have some fun out here along these lines rather than just saying "here's my 5-man lineup", which as I noted may not be a worthy approach anyway since I expect us to go 10 deep. Also, because I have this expectation, I am naturally countering the assertion some have made that Pitino will only favor "his guys" when it comes to minutes.
So, let's do this differently, and have some fun...
This morning, Pitino calls you up personally and asks you to make the two "rosters" for the Meet the Gaels scrimmage in October. He's hoping you can build him two equal units, accounting for all 5 positions on each roster. Here's the roster he posted on Twitter a few days ago (note: I have heard this is a "draft" roster; some of the info/heights/etc on here are flat-out wrong):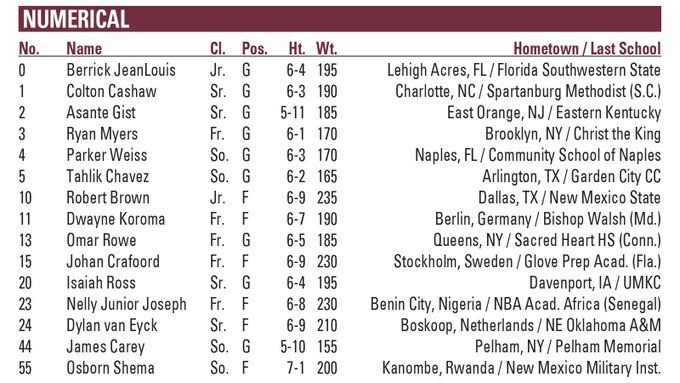 So, there are 15 guys above, and 2 are walk-ons. For sake of argument, let's include Weiss since we've seen him in action, but leave off Carey. So, you are charged with making two rosters of 7 players each, as even as you can make them. Go ahead and name your 5 starters and the 2 bench guys. I do NOT think it's necessary to break down by position, for as one guy subs in a couple guys may shift positions anyway, and since it's a scrimmage all 7 guys will play so therefore they'll all play more than one position most likely anyway. So that we all don't go nuts, just go with the 5 starters and 2 subs, and don't worry about minutes or positions.
Even if you're not a regular poster out here, offer up your take. None of us--not even PITINO--has seen all these guys on the floor together yet, so there are no wrong answers.
I'll even make this more interesting. At a certain point I'll lock this thread, maybe in a couple weeks, and then pin it so it stays on top of the board. Then we'll see what the ACTUAL Meet the Gaels lineups end up being. Whoever is closest will be a guest on my podcast following Meet the Gaels. I mean, if you can call our lineups THAT WELL without seeing ANY of these guys play, MONTHS in advance, you deserve something! Anyway, I will lock this thread in a couple weeks, to give everyone a chance to respond and even tweak their answers a little. Then I'll pin it to the top of the board so we don't forget.
Side note: YES, of COURSE things change, perhaps we see a late stud addition or a late transfer out, it happens. But remember, that would affect ALL of us, so just go with what we know RIGHT NOW, and not guess if anyone else is being added or dropped. Again, it would affect ALL of us if those things happen, so just go with what we know NOW, with the roster ABOVE.
Good luck, everyone. And remember: Pitino is counting on you!